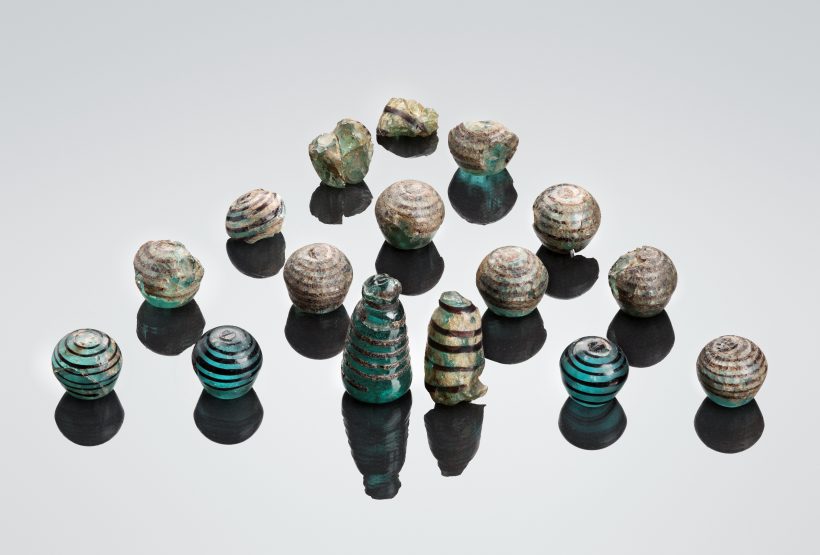 Against the background of Russia's invasion of Ukraine, the National Historical Museums are launching a new research project to compare the object collections at the historical museums of Sweden and Ukraine.
The project is led by Associate Professor Fedir Androshchuk and funded by the Torsten Söderberg Foundation. The overall aim is to develop knowledge of Swedish and Ukrainian collection history, based on Ukrainian objects in Sweden and Nordic objects in Ukrainian museum collections. The project also investigates how the collections have been used and in what way this can affect national identities and perceptions. In addition to the funding provided by the foundation, the project's preparatory efforts are made possible by the fund for fundraising for Ukrainian museums initiated by the Nordiska Museet Foundation.
"Storytelling and history have always been used as tools of power. In a troubled and conflict-ridden period in Europe, it may be particularly important to study the collective history of our countries and how they are expressed in our museums. Moreover, our regions have always been in extensive contact," says Magnus Hagberg, Director of the National Historical Museums.
Swedish museums house archaeological artefacts as well as historical objects and documents originating in Ukraine. Some of them came to Sweden during the Viking Age, early Middle Ages or Reformation, and constitute material evidence of interactions between the countries. The same applies to Nordic objects in Ukrainian museums.
"We're very excited to have the opportunity to deepen our knowledge of our own collections and those of other museums, and to see what light they can shed on the historical relationships between Sweden and Ukraine. Fedir's research is an important contribution to our mission to put Sweden's history in an international perspective," says Elin Fornander, Head of Research at the National Historical Museums.
The main focus of the project is collection history, with research based on Ukrainian objects in Swedish museums and Nordic objects in Ukraine's museum collections. The aim is to highlight and present this material and investigate how knowledge about the collections can affect national narratives in both countries. Another task is to develop theoretical and methodological tools that can help Swedish and Ukrainian museums identify how they impact society.
"When Ukrainian cultural heritage is threatened both by Russian state ideology and invasion, it is extremely important to investigate the role of museums in the creation of national identities. Museums have an important role to play in spotlighting international and multicultural contexts," says Fedir Androshchuk. He has been active as a researcher in archaeology in both Sweden and Ukraine, and is currently Museum Director at the National Museum of Ukrainian History in Kyiv.
According to the UN agency UNESCO, over 200 cultural heritage sites in Ukraine have been damaged since the Russian invasion began. In March 2022, the Nordiska Museet Foundation started a fundraising fund to provide financial support to the National Museum of Kyiv and other museums in Ukraine. Many private individuals, institutions and actors in Sweden and abroad have contributed to the fundraising effort. Support from the fundraiser also enables preparatory work for this research project. in the collections.
"In connection with the fundraiser, Maria Söderberg, Chair of the Torsten Söderberg Foundation, quickly got in touch about the possibility of supporting a research project. Together with Fedir Androshchuk and Susanne Thedéen, Director General of the Swedish National Heritage Board, we produced a preliminary outline of a suitable project and made an initial expert assessment of various ideas, which clearly pointed to the National Historical Museums as a suitable base. It therefore feels very good that the Torsten Söderberg Foundation has chosen to allocate funds to such an important research project," says Sanne Houby-Nielsen, Director of the Nordiska Museet Foundation.
The project "Sweden and Ukraine in Museum Collection History and Exhibition Narratives" is funded by the Torsten Söderberg Foundation. The foundation enables research initiatives and individual projects in medicine, economics, jurisprudence and other fields, often with a humanities connection. The grant amounts to just over SEK 1.6 million. The research project is expected to start on 1 August 2023 and will last for two years.
Press contact and images
For further information, please contact: Ulrika Mannberg, Press Officer, National Historical Museums:
Telephone: +46 (0)8 519 557 31
E-mail: ulrika.mannberg@shm.se
For press images, please visit our press room
Photo description: Examples of Viking Age objects with historical connection between Sweden and Ukraine. King of glass for board games, together with other game pieces. The king was found in a grave at Birka and is in the collections of the National Historical Museums. A similar object has been found in a grave in the cemetery in Shestovitsa (north of Kyiv). The cemetery contains many graves with material that show connections to Scandinavia.
Photographer: Ola Myrin, The Swedish History Museum/SHM.